Schedule

Lessons

Workshops

FAQ

Contact Us

Email Notices

Links

Photos

Videos

Next Mostly Waltz Dance
June 24, 2018
with live music by
Barbara Greenberg (violin),
Dave Wieslier (piano, guitar)
Daniel Beerbohm (winds)
Felinton Hall
Congregation Beth El-Ner Tamid
715 Paxon Hollow Rd
Broomall, PA 19008

(kosher building)

Directions & SEPTA Bus




Mostly Waltz invites you to an afternoon of dancing to beautiful live music. In addition to the waltzes, the program includes other couple dances, such as swing, tango, polka, one-step, schottische, fox-trot, etc. ...more
Admission $12 (includes pre-dance lessons)
(Full-time students 1/2 price; reduced admission for volunteers.)

The Program:
2:30 - 3:30 - Intermediate level lesson, dance style TBA

2:45 - 3:30 - Beginner-ish Waltz lesson for Beginners and "brusher-uppers"

3:30 - 6:00 Dancing to live music, starting with a waltz mixer,

Bring your favorite recordings for the break
Singles & Couples ~ all experience levels welcome...more
In consideration of dancers with sensitivities, please do not wear FRAGRANCES. Thanks very much.
For more info: 215-643-4397 or 215-512-5051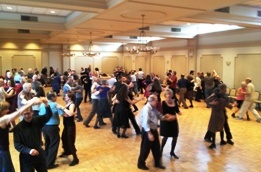 A Philadelphia tradition
since 1999....

Sign up for our Email Notices

Join our groups on



June 24 ~ July 29

at Felinton Hall, Broomall, PA

=========================

Aug 26 ~ Sept 30

=========================

Oct, Nov, Dec TBA

We'll know our dates by
July 2018

=========================
click here for follow up links

April 20-22

NEFFA

Mansfield Middle School
, Mansfield, MA,

on Sunday, April 22:
10:00am: Zwiefachers

12:30pm:
The Wonderful World of Waltz
Here's a video to show material we plan to include.

June 10

WaltzTime

Glen Echo Park, Maryland.
Waltz Workshops
with Peggy & Ret

July 28 & 29

Susquehanna Folk Festival

925 Roundtop Road,
Lewisberry, PA 17339

on Saturday, July 28th:

11:45: Appalachian clog workshop
5:15: waltz workshop