Schedule

Lessons

Workshops

FAQ

Contact Us

Email Notices

Links

Photos

Videos

Next Mostly Waltz Dance
August 26, 2018
with live music by
Nobody's Bizness
Bob Pasquarello (piano)
Mat Clark (violin)
John Krumm (guitar, mandolin)

with a Blues theme
(NOTE THE LOCATION)
Widener Hall at the
Presbyterian Church of Chestnut Hill
8855 Germantown Avenue,
Philadelphia, PA 19118

Directions & Parking





Mostly Waltz invites you to an afternoon of dancing to beautiful live music. In addition to the waltzes, the program includes other couple dances, such as swing, tango, polka, one-step, schottische, fox-trot, etc. ...more
Admission $12 (includes pre-dance lessons)
(Full-time students 1/2 price; reduced admission for volunteers.)

The Program:
2:30 - 3:30 Blues dance lesson with Shane Clark that will include how to waltz to the blues

2:45 - 3:30 Beginner-ish Waltz lesson for Beginners and "brusher-uppers"

3:30 - 6:00 Dancing to live music, starting with a waltz mixer, with extra Blues dances this month

Bring your favorite recordings for the break
Singles & Couples ~ all experience levels welcome...more
In consideration of dancers with sensitivities, please do not wear FRAGRANCES. Thanks very much.
For more info: 215-643-4397 or 215-512-5051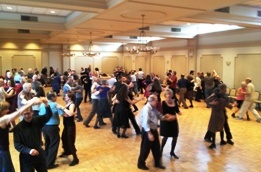 A Philadelphia tradition
since 1999....

Sign up for our Email Notices

Join our groups on



Swing & Waltz

in NW Philadelphia

2018 dates & locations

Aug 26, Sept 30

Widener Hall, NW Phila.
Oct 28, Nov 25, Dec 30
Felinton Hall, Broomall, PA

2019 dates
(January TBA)

Feb. 24, March 24, April 28,

May 26, June 23, July 28, Aug 25