Schedule

FAQ

Lessons

Workshops

Contact Us

Email Notices

Links

Photos

Videos


"Clear instruction from amazing teachers combined with a relaxed, fun atmosphere - I'm ready to continue Swing dancing all year round!"
DM April 2013

"That was a GREAT waltz lesson last evening... count me in from
now on taking ANY other lessons you and Ret are giving ANYWHERE.
I like your style of teaching. It is organized, consistent, and you both pay attention to detail... your passion for dance shines through"
DK May 2011

Winter '15 dates t.b.a.

---
Swing Basics:
Get hoppin' and boppin', jumpin' and jivin', and generally in the Swing. The course will cover the basics and beyond of East Coast style swing, then go into easy-to-learn and popular swing moves that you'll find yourself enjoying on the dance floor.
Intermediate Swing:
Expand your repertoire of cool swing moves & develop your partnering skills.
We'll cover the basics of footwork, partnering, leading and following; understanding the structure and rhythm of waltz music. Instruction is based on the traditional turning style waltz.

This course is for beginners, as well as dancers who want to improve their technique. The course is also suitable for those who know the box-step waltz, but want to learn this versatile and popular style.

Expand your repertoire of flourishes & develop your partnering skills.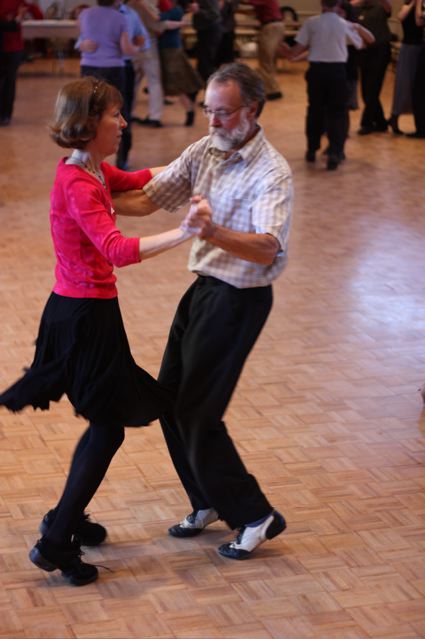 Peggy and Ret have been teaching waltz and other couple dances since Mostly Waltz (a popular monthly social dance) was formed in 1999.

~ Partners not required

~ Registrations will be reasonably gender balanced
Questions? Contact Peggy or Ret at 215-643-4397 ~ lessons@mostlywaltz.com